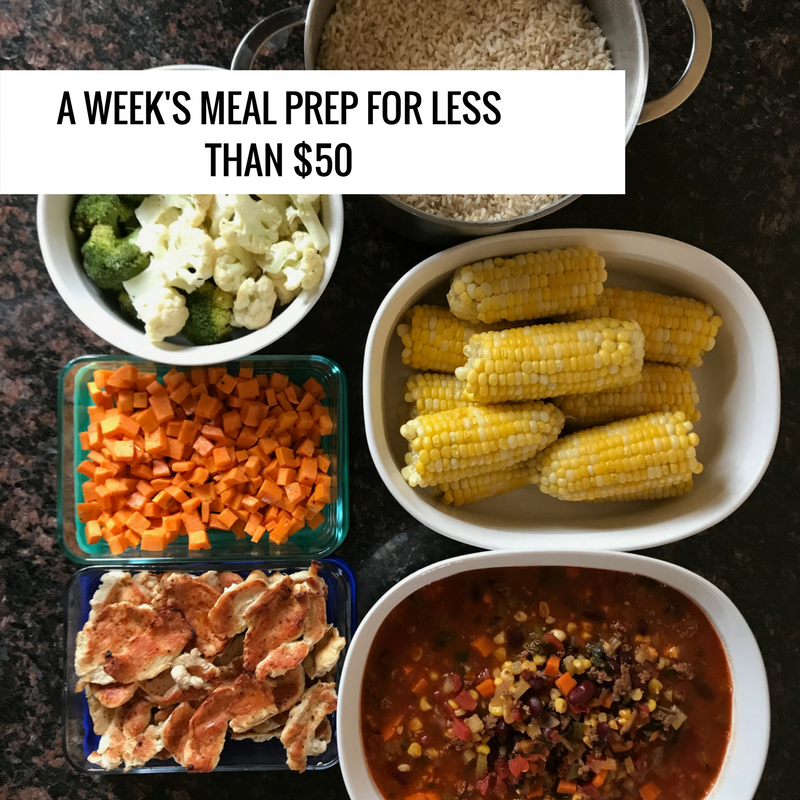 A Week's Meal Prepping for less than $50
The thought of having to plan out meals may feel like just one more chore to add to your already long list of things to do. However, taking the time to plan for meals each week – writing out a grocery list – means that you ultimately save TIME, MONEY,  and it means fewer less-desirable CALORIES. And it means less STRESS.
Menu Planning saves TIME – because first, you know "what's for dinner" and you won't have to run to the grocery store as frequently. Preparing meals at home saves MONEY – because eating out is so much more expensive than preparing meals at home. It also means less food waste because you've only bought the items you need to prepare your meals.
Cooking meals at home allow you to control the quality, calories and portion sizes, of your food. Do you notice how much food you're served when you go to a restaurant? Crazy! When we have more food in front of us, we'll eat more without realizing it.
Plan your week out in advance and see which nights you can cook at home. The crockpot becomes my best friend on busy days. I look at my calendar for the week ahead and whichever days are hectic, those are crockpot nights – easy breezy!
Start with what you know so you don't feel overwhelmed. If you already have a recipe box with a lot of recipes, start there. Find 5 or 6 you want to make for the week and go with that. You can add to the repertoire little by little. If you typically eat out most nights, maybe start with planning just three dinners this week and increase your menu planning from there.
Planning ahead
You know the saying "When you fail to plan, you plan to fail," right? I find this to be so very true when it comes to leading a healthy lifestyle. It does take a little planning, but it's well worth it.
You'll want to look at your week ahead of time (probably on Sunday morning), so you can be proactive with finding time to prepare healthy meals. What do you need to have ready for the week in order to be more prepared? Plug it into your calendar as if it's an important appointment, so you don't forget. On Saturday or Sunday, plan out your week and your menu so you can get to the grocery store to stock up on what you need for the week. Stick to your list so you're not compulsively buying things you don't need.
If I left things to chance, I would probably never exercise or cook very many meals at home.
We're all busy and have a million things to juggle, and this is why planning is so important to your success.
If you find yourself wondering what's for dinner, and it's 5:00 pm, you probably failed to plan. It happens to all of us, believe me. I'm not perfect either, but I plan things out a lot more now, and it's a lot less stressful and a whole lot healthier. Busy nights might call for putting a meal together in the crockpot, so it's ready when you get home.
By taking just a little bit of extra time to plan, you can make sure that you always have healthy food choices at your fingertips, and you aren't rushing to make the quick, convenient, highly-processed choices.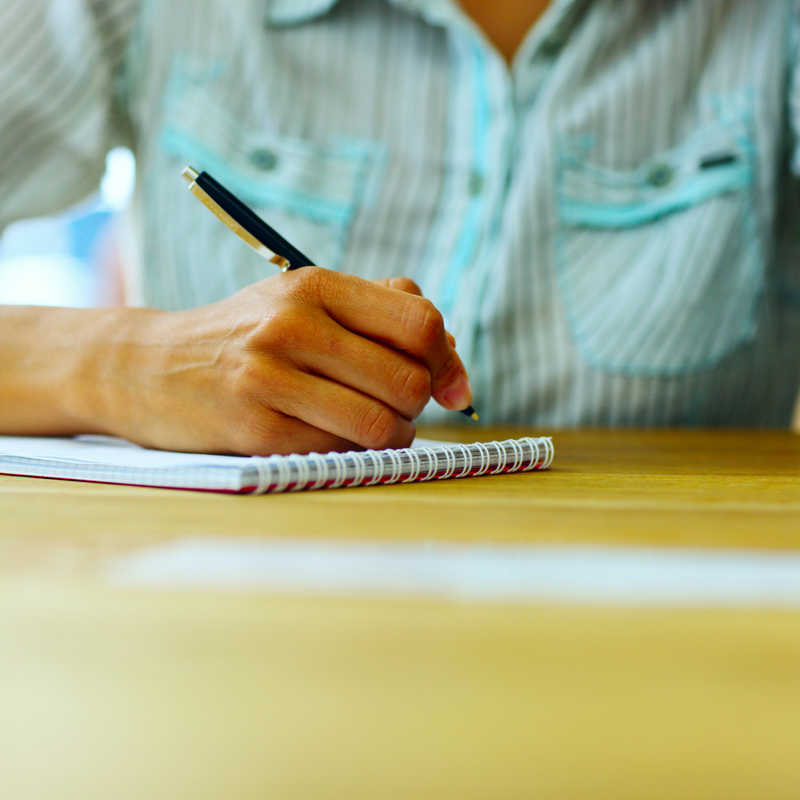 This week meal prep is for a family of 3
Recipes
Southwestern Beef and Vegetable Soup: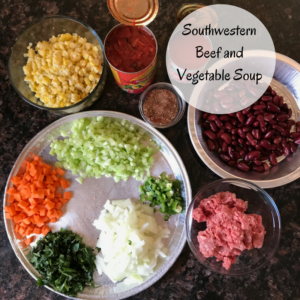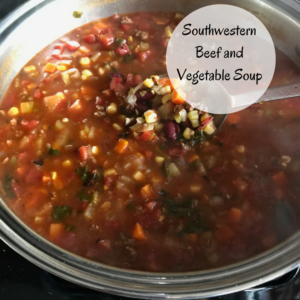 Recipe: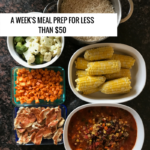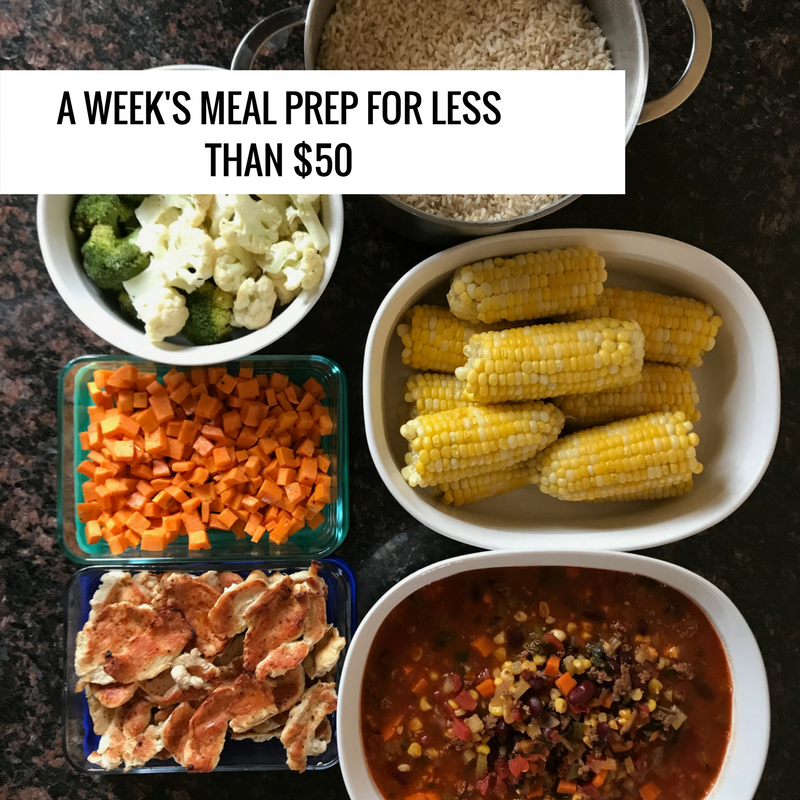 Ingredients
8oz.

grass-fed ground beef

4 oz.

tomato sauce

16 0z.

fire roasted tomatoes

16 oz.

kidney beans,

rinsed and drained

3

cups

chopped vegetables:

celery

onion

carrot

corn

jalapeno pepper

1

tablespoon

olive oil

SEASONINGS:

1

teaspoon

cumin

1

teaspoon

chili powder

1

teaspoon

garlic powder

1

teaspoon

smoked paprika

1

teaspoon

21 seasoning salute

salt and pepper
Instructions
Heat a stock pan with oil. Add the ground beef, stir, cook until brown. Add all the vegetables and seasonings, stir to mix well. Add tomato sauce, fire roasted tomatoes, kidney beans, salt, and pepper. Stir to mix, cover, simmer for 10 minutes or until the veggies are soft.
Shopping List
The first week of your grocery shopping, you'll find that you're spending more because you have to get everything you need and some of them are in bulk or packages. For example, your spices, seasonings, frozen fruits, vegetables in bulk or bunches. But once you have everything you need you'll be spending a lot less for weeks to come.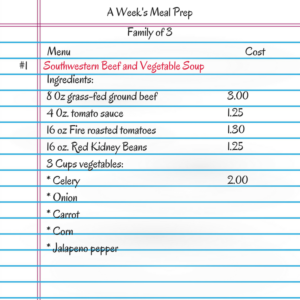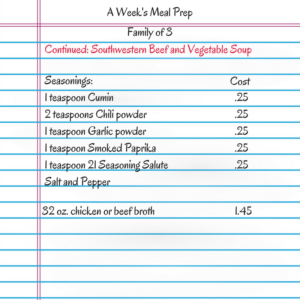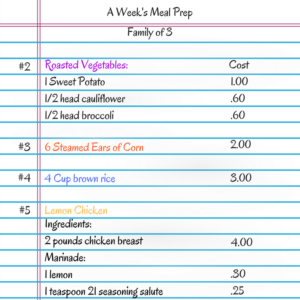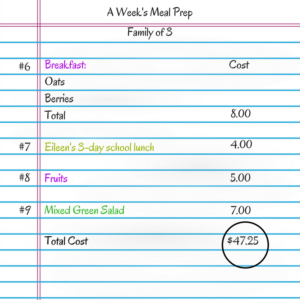 Baked Lemon Chicken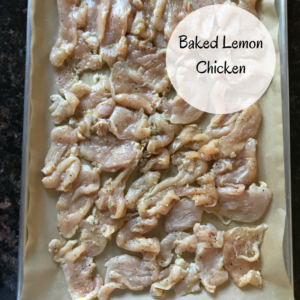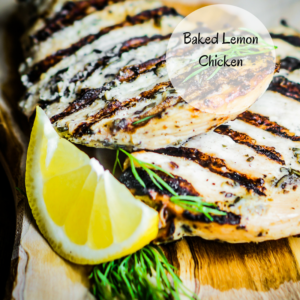 Recipe: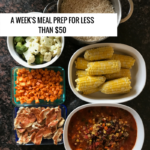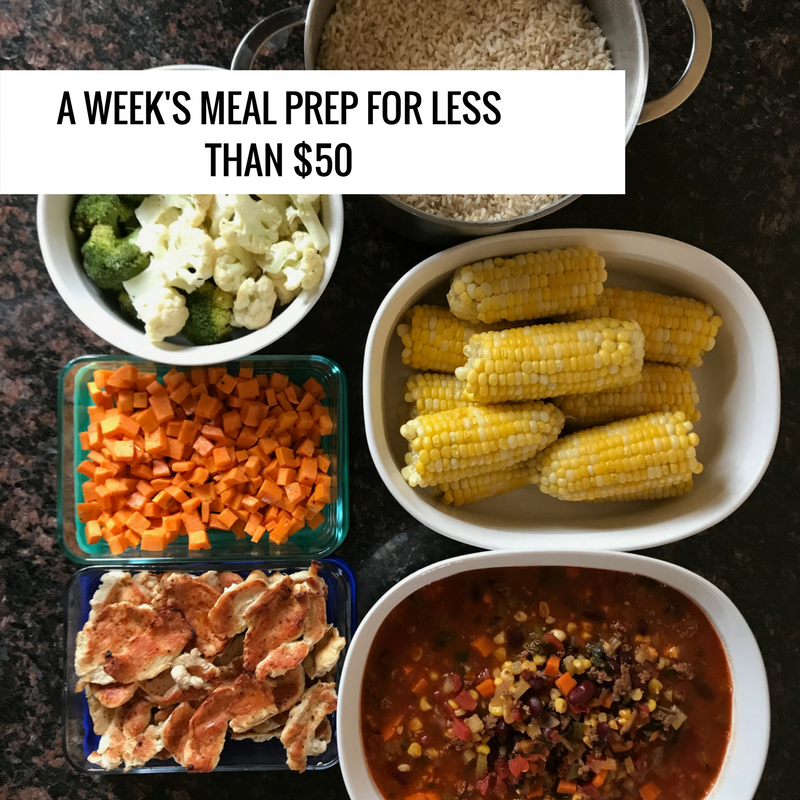 Ingredients
2

pounds

chicken breast,

thinly sliced

juice

of one lemon

1

teaspoon

lemon zest

1

teaspoon

21 seasoning salute

1

tablespoon

olive oil

salt and pepper
Instructions
Combine all ingredients in a bowl, marinate for 5-10 minutes. Preheat the to 350 degrees. Line a baking pan with parchment paper. Arrange the chicken on the pan, bake for 30 minutes or until golden brown. Option: to char the chicken - broil for a minute. Do not overcook.
Roasted Vegetables
Roasting vegetables brings out the essence of the vegetables. Root vegetables are great for roasting like squash. Cut the vegetables any way you want, line a baking pan with parchment paper or foil, drizzle a little oil and season them with salt, pepper, and your favorite dried herbs – like basil or rosemary. Heat the oven to 300-400 degrees, bake them for 30-45 minutes or until the vegetables are tender.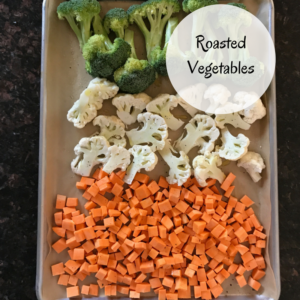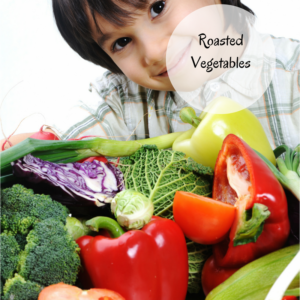 Fruits
I prewashed all fruits and dry them. Tip: when washing your fruits and vegetables – add a little bit of apple cider vinegar to the water. Apple cider vinegar has a natural anti-bacterial that helps clean your produce. Add about 1 tablespoon to one cup of water.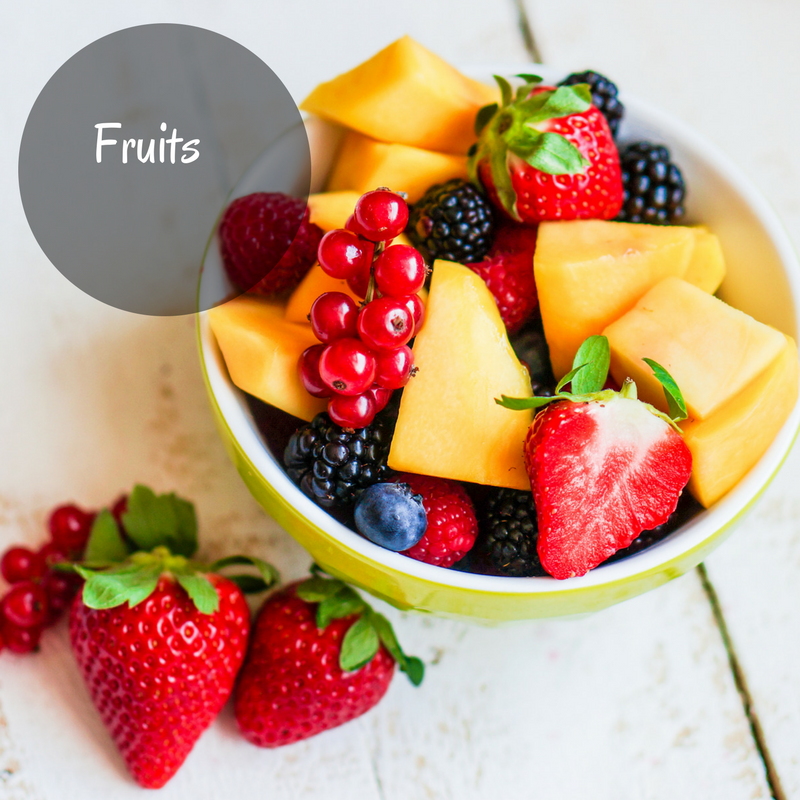 Greens and Oats
I added feta cheese and fruits to my mixed green salad and I use oil and vinegar for my dressing. I love using arugula, spinach and romaine lettuce, or mixed spring greens. The greener your salad the better it is for you – the study shows dark leafy greens are helpful in reducing the risk of cancer and heart disease. They're high in dietary fiber, and high-fiber diet helps improve digestion, lower cholesterol and helps control blood sugar levels. The more living or raw food we eat the healthier we get.
Oats are a good source of soluble fiber, promotes healthy gut bacteria and increases feelings of fullness. It has numerous health benefits, it also reduces cholesterol and blood sugar levels.
When we think of nature we think of health, we think green. Green is associated with life but sometimes people are afraid to eat more of them. They say it's too healthy, and that's so true! We have been so conditioned by the outside world to eat too much junk that we consider them food but they're just an "edible-like substance." The more you eat lifeless food the more you feel aches, pain, fatigue, and brain fog.
" We're being manipulated by food engineers who have figured out how to tap into our brains. But if we can kick our addiction to junk food, we become better able to distinguish the fake stuff from the real, and that chemical aroma will lose its power to hook us." ~ SuperLife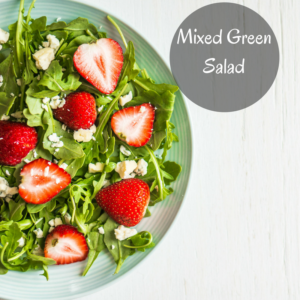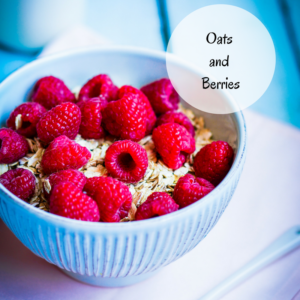 Bring Lunch to school or work
My 14-year old daughter brings lunch to school 3 times a week and she eats school lunch for 2 days. Nowadays, school lunches are not the best foods for kids but many school districts try to do the best they could according to the school budget. Eating healthy is not really expensive, you just have to know how to prep your own meals and incorporate whole foods rather than having pre-packaged foods. Be creative, make fun and colorful lunches for your kids. Have some chicken tacos, add lettuce, tomatoes, and avocado to their sandwiches. Cut up some fruits or make healthy snacks like no-bake resee's bites made from oats, unsweetened cocoa powder, honey, and no added sugar peanut butter, roll them to form small balls.
As for adults – sometimes bringing lunch to work could get challenging but according to a study, 92% of restaurant meals have too many calories, plus even the healthier fast food options still pack too much salt and fat. Bringing your own lunch to work gives you more control over the calories, you'll have a sense of the portion of foods you're consuming. Not only you bring healthier foods than the cafeteria and vending machines but you're also giving it a personal touch that makes the food more satisfying – according to HealthyAperture.com 
If eating healthy is not enough to convince you to bring your own lunch to work – how about the money you're going to save when you prep your lunch. When you buy pre-packaged foods, not only you're paying for the actual food but you're also paying for business expenses and that tops your total spending cost. Nowadays, just to have a drink will cost you nearly $3 plus your food will be about between $5-$10 and that's a total of almost $13 just for lunch alone. What about your snacks, breakfast, and dinner? You'll be spending $20 per day just for yourself alone. And sometimes we work more hours to compensate for our expenses, instead of having more quality time to spend with family and friends. Time is money in a very priceless way, it's the golden gate to happy life.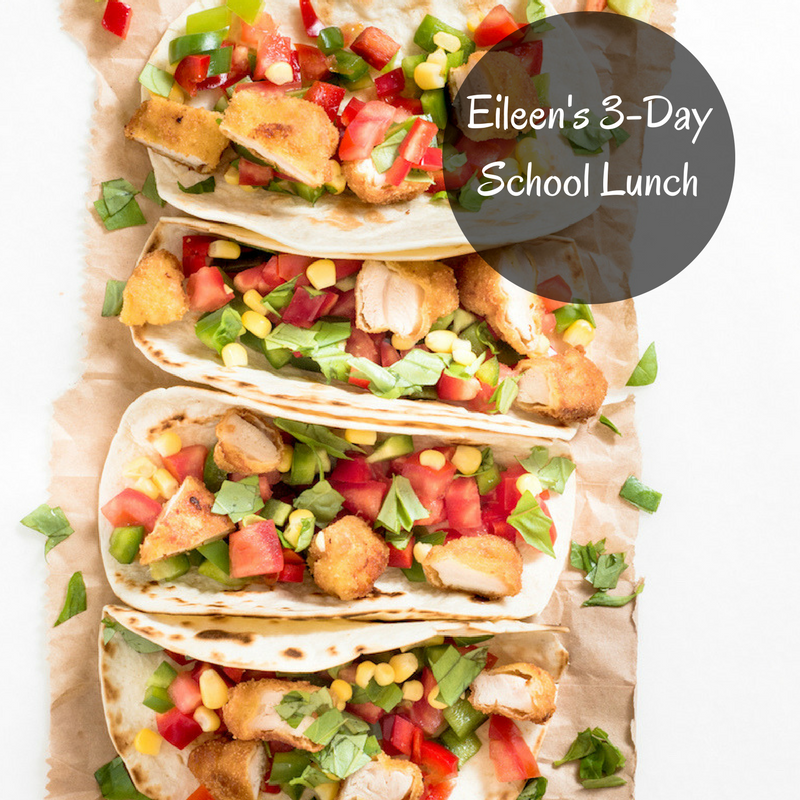 Food and Gratitude
I find that when we as a family sit and have dinner together at home we are more appreciative of the food that gives us vibrant life, food that nourishes the body to live longer and happier.
The practice of gratitude contributes to greater success in work, health, and a higher sense of well-being. But while we may acknowledge gratitude's many benefits, it still can be difficult to sustain. So many of us are trained to notice what is broken, undone and lacking in our lives. And for gratitude to meet its full healing potential in our lives, it needs to become more than just Thanksgiving word. We have to learn a new way of looking at things, a new habit. And that can take some time.
That's why practicing gratitude makes so much sense. When we practice giving thanks for all we have, instead of complaining about what we lack, we give ourselves the chance to see all of life as an opportunity and blessing.
There are many things to be grateful for: colorful autumn leaves, legs that work, friends who listen and really hear, fresh eggs, dark chocolate, warm jacket, tomatoes, the ability to read, roses, our health, butterflies.
What's your list?
As you practice gratitude, an inner shift begins to occur and may be delighted to discover how content and hopeful you are feeling. That sense of fulfillment is gratitude at work.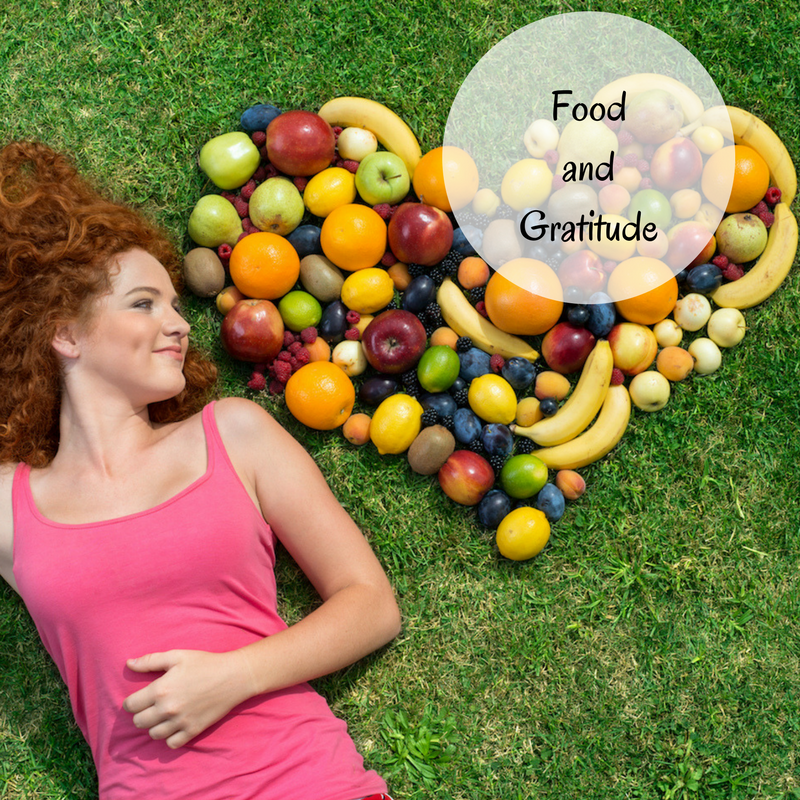 ---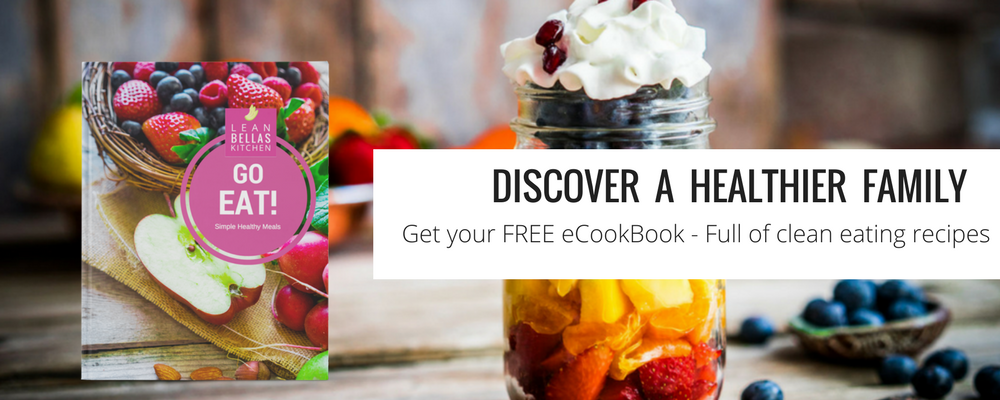 ---