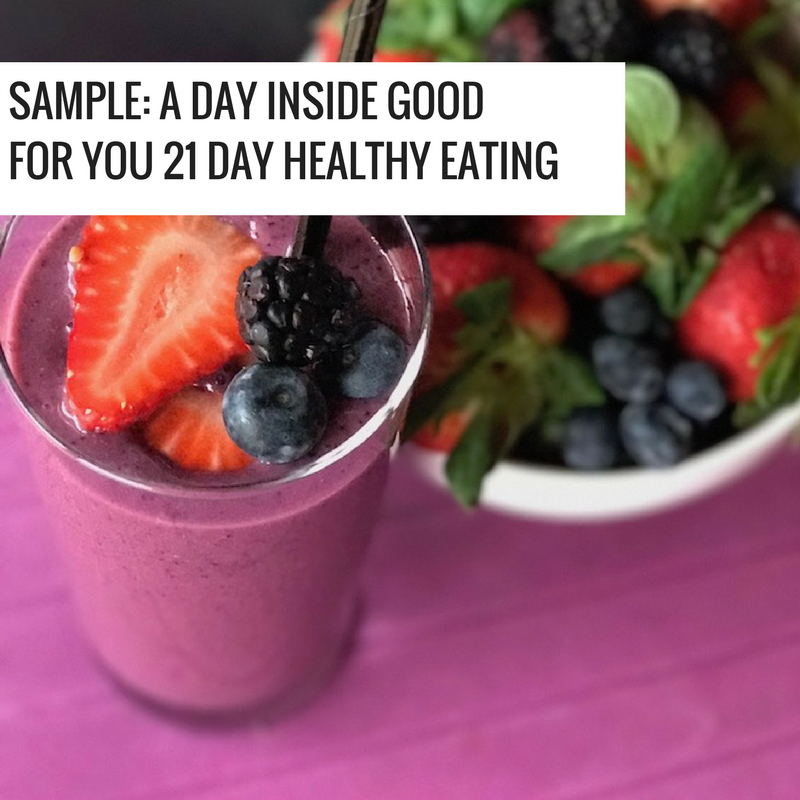 Sample: A Day Inside Good For You 21 Day Healthy Eating
Good For You 21 Day Healthy Eating Program is created to help you on your journey to healthy living. Here's a day sample inside the program. Remember: The last thing you want is to get overwhelmed, if there's a meal you will not like, swap it with another meal on the current plan. You can change out your breakfast, lunch and dinner option. You can have the same dinner for 3 days if you want to. If there's an item in the menu that you're allergic to or you don't like, substitute for something similar. For example green for another green, fruit for another fruit and healthy fat for another healthy fat.
YOU GOT THIS!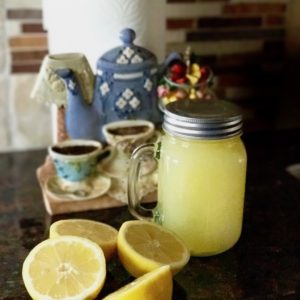 Drink lemon water upon waking up: Why?
When we sleep we don't drink, right? So our body becomes dehydrated, drinking adequate water when you first wake up is a great way to freshen up your body and mind. During our sleep is when the body restore and generates, so drinking enough water in the morning helps to make sure our body can function properly.
Lemon contains vitamin C, adding fresh lemon juice in our water help boost our immune system. I add about 1 teaspoon of lemon to a cup of water.  There's also a study that drinking adequate water help maintain a healthy weight (see source).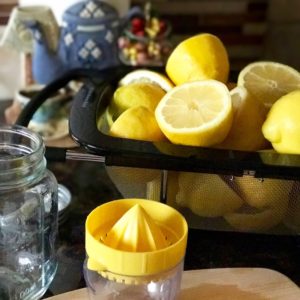 I squeezed about 12 lemons and keep it in a mason jar. Refrigerate, and it's conveniently ready for me to add to my morning water. It also makes life a little easier when I need to add lemon to flavor my dish.
BREAKFAST
Berry Bonanza Smoothie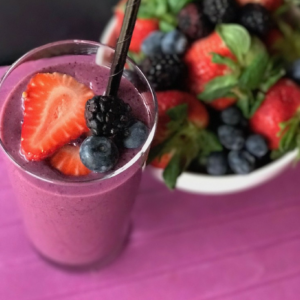 Ingredients: Servings 1
1/2 cup strawberries
1/2 cup blueberries
1/2 cup blackberries
1 banana
1 scoop of vanilla protein powder
1 cup water
Instruction: Add ice, blend until smooth.
MID-MORNING SNACK
No Bake Lemon Cashew Energy Bites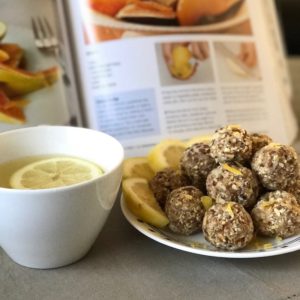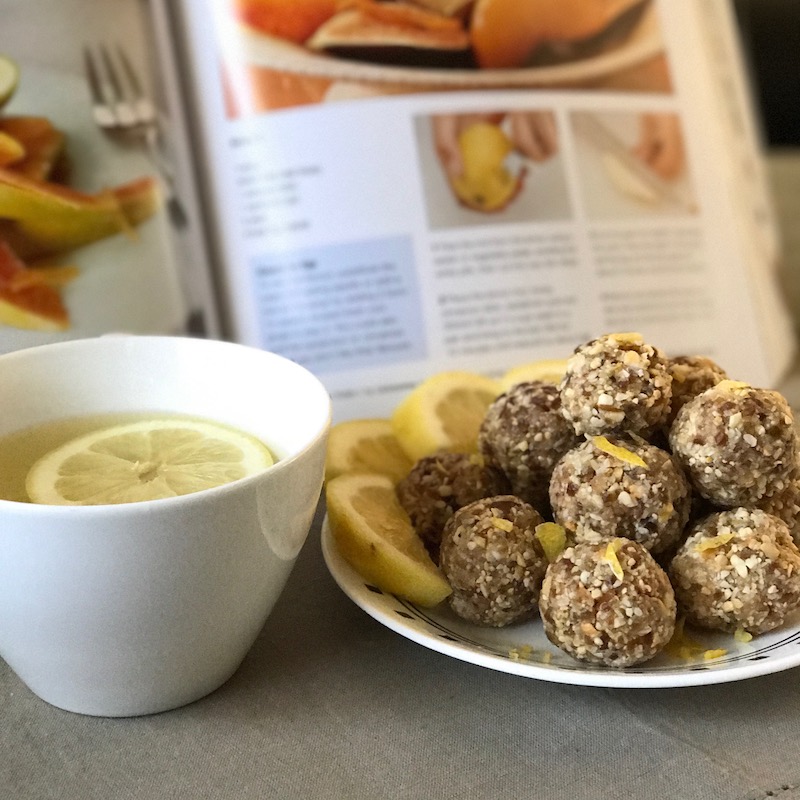 Ingredients: Servings 2 energy bites
1 cup cashews
1 cup dates
1/2 cup unsweetened coconut flakes
1 tablespoon freshly squeezed lemon juice
1 tablespoon lemon zest
Instructions: Combine all ingredients in a food processor, pulse until finely ground, transfer to a bowl, scraping the sides. Form into an inch ball. Keep them in an airtight container and refrigerate.
Option: You can also have a serving of fruit with 1/2 cup plain yogurt, a dash of cinnamon and 1 teaspoon honey. Or a cup of cut up vegetables, dip in 1/2 cup hummus. Instead of the Lemon Bites. 
LUNCH
Roasted Vegetables with Parsley Pesto

For the roasted vegetables: Servings 2
Ingredients:
1 small eggplant, sliced
1 yellow bell pepper, sliced
1 Roma tomato halved
Sea salt and black pepper to taste
For the pesto: 2 tablespoons per serving 
Ingredients
1 bunch parsley
1 garlic clove
1/2 cup fresh Parmesan cheese
1/3 cup olive oil
1/4 cup roasted cashews
1/4 cup sun-dried tomatoes
Instructions for the pesto: Place the parsley, cashews, garlic, Parmesan cheese, sun-dried tomatoes, salt and pepper in a food processor, pulse until finely chopped. Turn the food processor to low, slowly pour the oil into the feed hole, process until smooth.
Instructions for the roasted vegetables:
Pre-heat the oven to 400 degrees. Line a baking pan with parchment paper, arrange the vegetables on the pan, drizzle with olive oil, season with salt and pepper.
Bake for 30 minutes or until tender. Remove from the oven, cool and cut into smaller pieces. Place the vegetables on a plate and dip into the Parsley Pesto. Save the unused pesto for next time.
MID-AFTERNOON SNACK
An apple sliced is into wedges and cored using a handy kitchen tool.
1 apple
2 tablespoons almond butter
Slice the apple and dip into almond butter. Enjoy!
BLACK OR GREEN HOT TEA
You can drink hot tea anytime of the day
DINNER
Chicken Fajitas

1 pound chicken breast, sliced
1 red bell pepper, cut into thin strips
1 green bell pepper, cut into thin strips
1 avocado, pitted and sliced
3 garlic cloves, minced
1 yellow onion, chopped
2 tablespoons olive oil
1 teaspoon chili powder
1/2 teaspoon paprika
1 teaspoon cumin
1 cup salsa (no artificial flavorings)
4 large lettuce leaves
a handful of cilantro, chopped
Juice of one lime
Sea salt and black pepper to taste
Instructions:
Season the chicken with cumin, paprika, chili powder, salt, and black pepper, rest for 5 minutes to soak the flavors.
Heat a pan with oil, sauté garlic and onion, add the chicken, stir, cooked through. Add the salsa, bell peppers and lime juice, stir, simmer for 5 minutes or until the peppers are tender.
On a plate, arrange the lettuce leaves, fill each one with the chicken mixture, add the avocado on top, garnish with cilantro. Squeeze lime.
Relax, digest your food, walk if you desire. Get your 8 hours of sleep! 
LET'S GET STARTED!
Here's what you get inside Good For You 21 Day Healthy Eating
Energy boosting smoothies for breakfast
Refreshing lunch recipes
Satisfying dinner recipes
Healthy snacks
Weekly Menu plan
Weekly Grocery List
All you need to know about building healthy habits