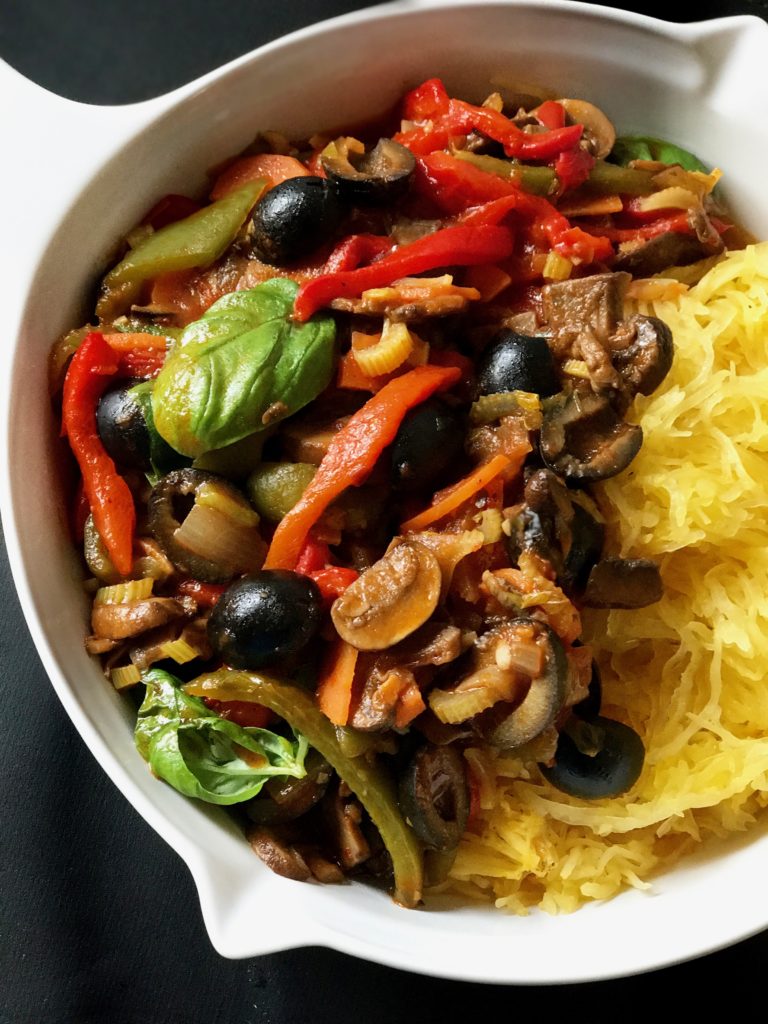 Mushroom Ragout with Olives & Peppers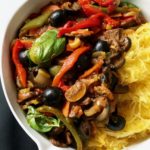 Mushroom Ragout
If you're looking for meatless Lent meals, this recipe is perfect for you. Ragout is a French red sauce with normally some meat. Today I decided to make my own version of a vegetarian ragout sauce. Quick and simple plus I used spaghetti squash instead of pasta which is great for those watching their carb intake. Bon Appetit!
Ingredients
1

cup

or 10 crimini mushrooms

sliced

1

red bell pepper

seeded and sliced

1

green bell pepper

seeded and sliced

1

medium carrot

chopped

1

yellow onion

chopped

1 6

oz

canned black olive

4

garlic cloves

minced

2

stalks celery

chopped

a handful

1/2

teaspoon

red chili pepper flakes

2

teaspoon

dried thyme

1

tablespoon

red wine vinegar

1/4

cup

tomato paste

1

cup

vegetable broth

sea salt and black pepper to taste
Spaghetti Squash
1

medium spaghetti squash

2

tbsp

olive oil

sea salt and black pepper to taste
Instructions
Ragout Instructions:


1. Roast the peppers, set aside. Heat a pan with olive oil, add the onion, cook until tender or translucent, add the garlic, stir to mix well.

2. Add the carrot, celery, season with salt and pepper, stir to mix. Add thyme, tomato paste, and mushrooms, frequently stir, add the vegetable broth, stir, lower the heat cover, simmer for 5 minutes or until veggies are soft.

3. Add red wine vinegar, stir, add roasted peppers, olives, and fresh basil, stir until well heated.

4. Remove from heat, add on top of the spaghetti squash.
Spaghetti Squash
Instructions:

Cut the squash in half, use a grapefruit spoon to scoop the seeds out. Line a baking pan with aluminum foil, place the squash on the pan, season with salt and pepper, drizzle olive oil.

Bake for 40 minutes or until the flesh is fork tender and completely cooked through. Cool for a few minutes, using a fork, scrape lengthwise and it'll come out like noodles.